Earn like a Sage
Start powering up your Affiliate network earn commissions PLUS our giveaway funds. Champion your community and we can help you earn more. 
12 Months of Better Profits
Monthly Funds + Commissions
For the next 12 months, we are giving Affiliates the chance to reach new heights. By leveraging your network and encouraging them to trade with Sage FX not only can you earn great commissions but you can also win one of 3 great monthly prizes.
Want more? At the end of the 12 months, we also have a total of $4,500 to give away. So, that's almost a giveaway of $10,000 in total over the 12 months. Don't waste any time, sign up today!
What Referring Sage FX Means
It's not just a vision, it's our promise!
We have built a culture of opportunity! Be it by helping traders to ace financial markets and trade with peace of mind or guiding our Affiliates to better success. Referring your network to us means they have access to best-in-class technology & trading conditions and you can take advantage of:
*Weekly, limitless commissions to help you grow your profit potential.
*Creative marketing tools to help increase your traffic.
*Personal Affiliate Account Manager to help at every turn.
Don't wait, share Sage FX and put your money to work!
New to Sage FX?
We believe everyone should be given the opportunity to earn more, and we make it EASY.
Increased Earnings in 3 Easy Steps
We believe in simplicity and in just a matter of minutes, you can be on your way to earning more.
Sign up or Log in
✓ Simply register with Sage FX & immediately access your referral link!
MT4 Contest Account
✓ Encourage your referrals to open a MT4 contest account & trade!
Share the Love of Trading
✓ Sage FX makes earning easy. Spread the good word, we know your network will love us!
The more Referrals, the more you Earn
If we haven't given you enough reasons why sharing Sage FX is the right move, here is another, 12 months 3 great prizes on top of your reliable weekly payments. We have a total of $4,500 to giveaway at the end of 12 months. Step it up and start earning more now.
1st Prize: $2,000        2nd Prize: $1,500       3rd Prize: $1,000
You Don't Have to Wait 12 Months to Earn
Each month we have a total of $330 to be won. So, stand out from the rest and you can grab one of 3 great prizes at the end of each month.
1st Prize: $150        2nd Prize: $100        3rd Prize: $80
Affiliate Competition Terms & Conditions
1. This Competition is available to all new and existing SageFX Affiliates. Affiliates that have had no lots traded by their referrals between 1st February 2021 and 31st March 2021 will not be eligible for the Competition before a minimum of 3 standard lots has been traded by their referrals collectively for two consecutive months.  
2. New Affiliates joining after the start date of this competition will be eligible to win a Prize from their Second month of activity, if they reach the minimum amount as stipulated in Clause 5 of this Terms and Conditions.  
3. This competition will run from 00:00 GMT-5 on 3rd May 2021 to 23:59 GMT-5 on 30th April 2022. 
4. Dedicated Competition MT4 Accounts will have to be created by all Referrals in order for their lots to count towards the Competition. ANY REFERRAL LOTS THAT ARE TRADED FROM ANY OTHER MT4 ACCOUNT WHICH IS NOT THE DEDICATED COMPETITION MT4 ACCOUNT WILL NOT COUNT TOWARDS THE COMPETITION AND NO EXCEPTIONS WILL BE MADE. 
5. At the end of each month the Total Lot Volume traded by Referrals will be counted, and the 3 Affiliates with the most % improvement in lots compared to the previous month will be eligible for the following Prizes:
1

st

 Place: $150

 

2

nd

 Place: $100

 

3

rd

 Place: $80

 
6. To be eligible to claim one of the three prizes at the end of every month, Affiliates must have a minimum of 4 Standard Lots Traded. As the competition progresses SageFX has the right to increase or decrease this minimum amount of lots. 
7. On the last day of the Competition, the 3 Affiliates that had the best Average % Improvement per month will be eligible to 3 Final Prizes as follows: 
1

st

 Place: $2,000

 

2

nd

 Place: $1,500

 

3

rd

 Place: $1,000

 
8. To be able to claim one of the 3 Final Prizes, an Affiliate must not have had more than 2 months during which their referrals trade NO Standard Lots during the competition period and must have a minimum of 350 Standard Traded by their referrals during the competition period. 
9. An Affiliate may win only a maximum 1 Prize per Month, and 1 Final Prize at the end of the Competition.  
10. There is no restriction on the number of times an Affiliate can win a monthly prize.  
11. Lots from Sub-Introducing Brokers will not count towards the total amount of the master Introducing Broker. Only direct referral lots would count towards the competition.  
12. Prize payments will be made as a manual adjustment on the second Friday of the month each month. Sage FX reserved the right to delay payment of the Prize by up to 7 days. 
13. Prizes may only be withdrawn in Bitcoin. 
14. Affiliates found to breach any of SageFX's General Terms and Conditions will be disqualified from winning any Prizes for the whole duration of the Competition. 
15. Sage FX reserves the right to change or update the Terms and Conditions for this Competition at any stage during the Competition period, with prior notice given to the Affiliates. 
16. In the event of a % Tie between Affiliates eligible for a Prize, the Prize amount will be equally split between the winners. 
17. Prize winners will be notified via email that they are eligible to claim a Prize.  
18. By taking part in this competition, you are accepting our General Terms & Conditions.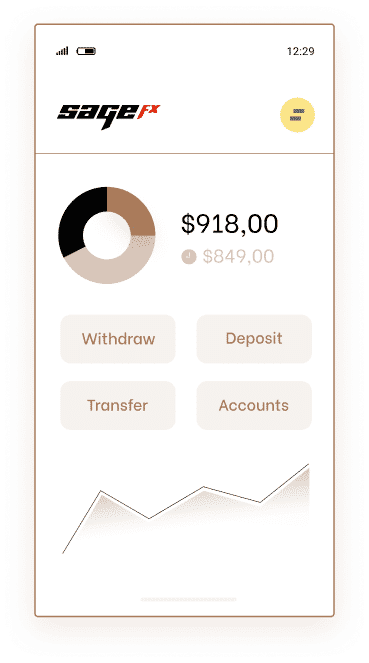 Introduce new traders to Sage FX & be rewarded
Trader's Competition
Encourage your network to join our traders' competition! The more they trade the better your earning potential & they can win great prizes.
More Information
How to Be a Successful Affiliate
Becoming an Affiliate provides new earning opportunities. Read our guide and see how you can take your business to the next level.
Read More